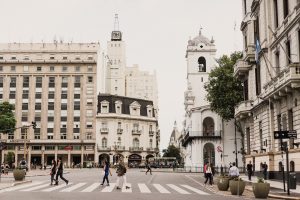 When investing in Latin America, businessman consider not only Mexico, which we discussed in our previous article, for company incorporation, but also Argentina. The most common forms of business registration for foreign investors in Argentina are the following:
Limited Liability Partnership (S.r.l.) is a simple and inexpensive structure, where the responsibility of the participants is limited to the invested capital. This type of company is mainly used by small and medium-sized businesses. The disadvantage of this form is that the transfer of shares in the capital of such company must always be registered in the public Registrar of Argentina, which may not be entirely convenient if the company plans to change participants frequently. Registration requires a minimum of 2 shareholders and a minimum of one director.
Stock Corporation (S. A.) – a more expensive and complex form, which is mainly used by larger businesses. The transfer of shares is registered privately by the company itself, and the liability of shareholders is limited to the invested capital. The minimum amount of the authorized capital is ARS 100,000 (25% of this amount must be paid at the stage of incorporation of the company, the rest – within 2 years). One shareholder is sufficient for registration, but if there is only one shareholder in S. A., then the law requires at least 3 directors + deputy to be appointed in the company. In case of 2 shareholders, you can appoint only one director.
Branch of a foreign entity – a branch of a foreign company will be an independent entity in Argentina from the accounting point of view. The structure is also quite simple to register and maintain.
The company's registration in Argentina normally takes 3-6 business days from the date of submission of all necessary documents to the Registrar. With the registration of the company and the opening of a bank account – 2-3 weeks. However, if a company plans to have corporate shareholders, for example, two foreign companies, such companies must first be registered with the Commercial Registrar of Argentina. Such registration may take 30-60 days from the date of submission of all documents translated into Spanish to the Registrar, including the charter, the good standing certificate, the company's balance sheet, and a power of attorney for a representative in Argentina. The jurisdiction of foreign companies is not important for registration, however, if the company is registered in a tax-free state, the Registrar can conduct a more deep check. In case of a foreign shareholder-an individual, such registration is not required, you will only need to get a tax number, which the individual can get on the same day.
According to Article 256 of the Company Law of Argentina 19.550, the majority of the members of the Board of directors must be residents of Argentina. As for the proportion, the law states that for each non-resident director, two resident directors of Argentina must be appointed.